Menopause, Epilepsy and Family Relationships
Last updated: October 2023
I'm Michele, from Newcastle upon Tyne, UK. I'm a 62 year old woman, divorced from an abusive alcoholic. I've had TLE since I was 11, stress and ovulation are/were my triggers, garlic from Spain was also one but that seems to have diminished. My little Border Terrier dog has suffered seizures too.
9 years ago
9 years ago I suffered a near nervous breakdown and a seizure. My, then, husband carried on drinking and I wasn't found for 12 hours, I was still unconscious and taken straight to hospital where I stayed for a week. Since then life has never been the same. I can no longer work (I tried going back to my own business and working for a friend….), I can no longer drive.
Memory problems, anxiety and loss
Memory problems are my biggest anxiety now, coupled with the loss of my relationship with my youngest son. I'm now, divorced, my ex trashed our beautiful family home. When I left by ambulance, I was never able to return. It sold for a fraction of what it was really worth.
Epilepsy and the loss of memory is making me angry. I'm taking that anger out on people who don't deserve it. They are cutting me off.
A renewed sense of hope
I am fortunate in that for the last 7+ years I have been in a relationship with Terry, who can cope with my problems and he is a tower of strength; my rock! Plus his dog Pickle.
I have had to claim benefits. I was a runner-up North East Businesswoman of the Year before all of this! I was quite famous here in the NE of England, Toffs.com is where I'm still the co-founder and a shareholder, I don't think the benefit assessor thought I was in the right place! However, I could not return to work and my doctor signed me off on long term sick leave. The benefit called PIP was not fit for purpose when it came to understanding epilepsy and epileptics. It took me years to receive it, sending letters to anyone and everyone who I thought could be influential. I was determined though.
I have an excellent epilepsy specialist here at the RVI in Newcastle and a very caring local GP. Epilepsy and Depression go hand in hand and I'm treated for both. I just hope the rest of my life will be as seizure free as possible and my heart goes out to you all, who, like me are epileptic.
Nice to meet the community!
Michele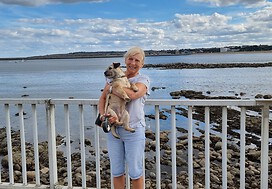 This article represents the opinions, thoughts, and experiences of the author; none of this content has been paid for by any advertiser. The EpilepsyDisease.com team does not recommend or endorse any products or treatments discussed herein. Learn more about how we maintain editorial integrity
here
.

Community Poll
Is increased screen time a seizure trigger for you?