36 and Diagnosed With Epilepsy
Last updated: November 2022
At 36 my husband kept telling me: "something is wrong you keep staring off and can't respond." I told him he was crazy, that I was fine and that didn't happen. Then a co-worker saw this happen, she thought I was ignoring her. She told me what happened and that she was about to hit me.
Meeting with my neurologist
So, finally in May 2021 I met my neurologist. At my first appointment it happened in front of the doctor, nurse, and my husband. The doctor said, I definitely have epilepsy. He went on to get me scheduled the next day for my EEG to show where it was happening and possibly why it was happening. I was told it's caused from head trauma, and I did have a troubled childhood. The epilepsy is in both frontal lobes, not just one. I had an accident in October 2021, which has me now on disability.
Still not in total control of my seizures
My seizures are still not even slightly controlled, even after 8 different medications. I've wanted to give up in the past year in a half. But, with God, my husband, and these support groups I keep going on to fight another day. We are blessed, because God only gives these battles to his strongest warriors!! Stay strong and stay positive epilepsy warriors 💜
My first EEG in May 2021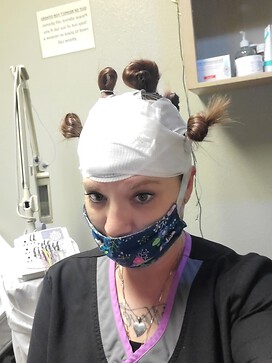 This article represents the opinions, thoughts, and experiences of the author; none of this content has been paid for by any advertiser. The EpilepsyDisease.com team does not recommend or endorse any products or treatments discussed herein. Learn more about how we maintain editorial integrity
here
.

Community Poll
Is increased screen time a seizure trigger for you?