Lorrie Forseth
Last updated: November 2021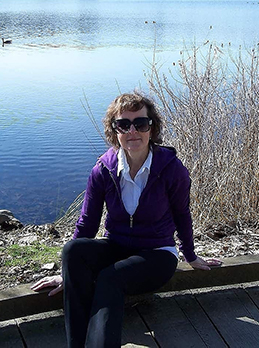 Hi, my name is Lorrie, I am from Vancouver BC, Canada and I am a proud mom of 2 daughters. I am a post-secondary Early Child Education Assistant (also known as ECE-a). I am a sports fan of Canucks hockey, Vancouver Canadians baseball, and BC Lions football. I also enjoy things like watching baking shows, talk shows, and so much more!
I am an Ambassador for the Center for Epilepsy and Seizure Education in Abbotsford BC, along with Purple Day supporting epilepsy around the world since 2009. I am an advocate for the British Columbia Epilepsy Society in Vancouver, Canada since 2010, SUDEP Aware in Canada, and SUDEP Action in the UK. SUDEP stands for sudden unexpected death in epilepsy. The Canadian Epilepsy Alliance (1-866-Epilepsy) and many more are listed on my social media accounts.
My daughter was diagnosed with epilepsy at age 8. Then later, after attending a school dance in her early teens where the strobe lights caught her eyes the wrong way, her seizures changed. Since this time, she has been diagnosed by her neurologist with genetic generalized epilepsy and photosensitivity. This diagnosis was given after a series of tests including an EEG.
That journey was like starting over from scratch, re-learning and learning new things all over again. No one, not even a doctor or neurologist, ever told us about photosensitivity. Imagine not being told in advance that flashing lights or objects – including those at a dance, on TV, or on social media, including YouTube, TikTok, and more – could be so harmful.
Then there is SUDEP: sudden unexpected death in epilepsy. I did not know about it until I saw a post by SUDEP Aware on their Twitter a few years ago, and some people still don't know it is very real and people can die. No doctors told us this beforehand.
For these many reasons, this is why I am here. To research and share with you, the reader, the caregiver, the family member, or the friend. I don't want anyone to feel how we did, so alone. All the uncertainty with epilepsy. Yes, it is very scary.
On this journey through my stories and maybe yours also, I hope to: educate, encourage, empower, show empathy, and toss in a lot of kindness. I also hope to give wisdom, connection (support/resources), friendship, and share neverending hopefulness.
A quote that I like to always remember: "It's like planting a seed and then hoping it grows through education and awareness."
You can find me on social media at my Twitter, Instagram, Facebook, and my WEGO Health Page.
Click here to read all of Lorrie's articles on EpilepsyDisease.com.