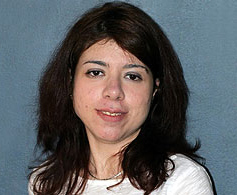 Alyssa D'Amico was first diagnosed with epilepsy at the age of 6. It was discovered that a virus caused it. At first, she had fear of what was happening and anger toward treatment. It did not take that much longer to notice that she is still the same person.
Her karate class made an impact on her, therefore she followed what she learned, that is: "Winners never quit, quitters never win, and I chose to be a winner. Every day and every way I get better and better."
She began to write poetry about 4 weeks later and never stopped writing. Multiple poems and articles were published by many different outlets such as Albany Poets, NYU FACES (Finding a Cure for Epilepsy and Seizures), Epilepsy Foundation of Long Island (EPIC), Epilepsy Foundation of Northeastern New York, Columbia University, The Antina Foundation, Star, Hofstra University, Ukraine Creativity, and Queens News.
As time went on, she wanted to discover more and more about neurology. Therefore she learned what certain parts of the brain were, what happens during seizures, and so forth. She knew that she wanted to help others and in college decided to study psychology. Post-graduation, her psychology professor periodically contacts her to teach a class about neurology and epilepsy, and the psychological effects of epilepsy for his social psychology class. After doing so, he allows her to introduce her book, "Short Circuit an Epileptic Journey."
Alyssa volunteers for epilepsy events such as NYU FACES Funday to help children have a great time, as well as spreading awareness by doing presentations in locations such as the Epilepsy Foundation of Northeastern New York's annual walk. She's presented alongside 2 New York University neuroscience PhD candidates at New York University Langone Hospital, at The Story Collider, and multiple times with EPIC, Hofstra University Medical School, Columbia University, New York State Writing Institute, Inspired Word, Albany Poets, and the Bronx Brooklyn Book Fair.
She believes everyone has a challenge to face, whether it is mental or physical. And we must figure out how to take care of it, because all people are different. She helps her emotions by writing poetry. She likes to help others with neurological disorders and is looking forward to moving further with that. She is an epilepsy advocate, and her aim is to spread awareness to as many people and to as many places as possible.
Click here to read all of Alyssa's articles on EpilepsyDisease.com.